Winter Switchbacks
Winter Switchbacks
– Written by Sam Angus
There is no bad time to take to the extensive trails in and around the Waterloo Recreation Area.  There is no one place to best enjoy the natural beauty of the largest state park in the Lower Peninsula of Michigan.  There is, however, a particularly fun, and painful, place and time to take in a little bit of what the Waterloo Recreation Area has to offer.
That place is just a short drive down Green Road off of Clear Lake Road.

The time is too early on a Saturday at the end of January.

The occasion in question is the 5k Winter Switchbacks Race.
On Saturday January the 29th at a little before 10:00 a.m. I find myself at this place/race.  The temperature may have just moved past 0 degrees.  May have.  I have running tights, two pairs of socks, two pairs of gloves, knee braces (more for warmth than for my knees), a balaclava, a knit hat, and three layers of shirts.  I also certainly have both of my children with me, a number of their friends and teammates, and a host of friendly strangers.  You don't do something like this alone, even if you are crazy enough to have done it before.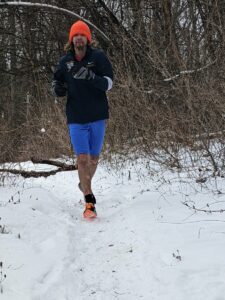 We are clumped on the side of Green Road near the start of Hideaway Lane.  Eric Swager Chelsea High School track and cross-country coach, has given us our instructions.  We have three and a half laps in front of us.  The trail is snowy.  All we need to do is turn and keep turning right.  If we can finish without stopping, we will get a prize.  We need to scream when we start so Swager's wife Julie, waiting for us at the top of the hill, can start the clock.  We have fifty seconds.  I move to the back of the groups with the old guys.  The high school crew, former high school runners, and other fast folks are up front.  Three, two, one ….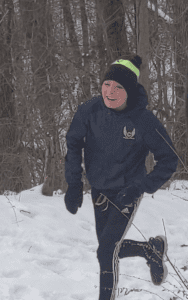 I leave the screaming to the younger folks, start my watch, and move down Hideaway Lane towards the trail that heads off to the right … up to the right.  At first it simply undulates a bit.  Up, down, side to side. At one spot, there is a high road and a low road.  I am at the back of a line made up mostly of middle aged men, and we stay high.  We also move slow.  Too slow, but I know better than to be in a hurry.  I have never run the Switchbacks in winter, but I have run it before.  I know what is coming next.  Up we go.  First it is an ordinary hill and then we are at the switchbacks themselves. Side to side, but always up.  And then, just when you think it can't get any worse, it does.  The last bit is straight up, with a handful of people watching you suffer.  They cheer too.  At least there are no water guns in winter.  Without even a glance at the clock, I start down the wider trail that leads, eventually, back to Green Road.  One down, three more hills to go.  That's the true joy here. That's the half in three and a half laps.  The half is behind me.  Three laps to go.
From here it is just a matter of enduring.  You endure the rush of the downhill.  You endure the thought of heading back uphill right after you get your breath back.  You endure the sticks folks have thrown out onto the trail to make it more fun.  You endure knowing that the end is growing ever nearer.  You endure the thought of speedy teenagers coming up behind you (for what it is worth I am only lapped by one person, and he is on the Greek National Team so …).  Then, suddenly I am past enduring.  My hands are sweaty.  I realize I have passed a few folks.  I know there isn't much more to do.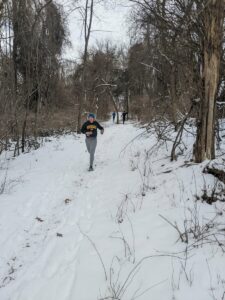 The last hill has arrived.  In the past this has been the worst moment, but today it isn't bad at all.  I have caught up with one of my daughter's cross-country teammates and I followed her up the switchbacks one last time.  Then I turn and cheer for the folks who have yet to come.  Later we will tromp back down the hill, listen to Swager congratulate us from the back of his pickup, and gather round to choose our prize.  There are shirts, bumper stickers, plastic cups, and more.  Before I know it we are back in the car and headed for home.  Winter switchbacks are over.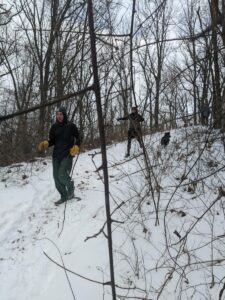 If you weren't there with me, you have missed your chance to run in the 2022 version of Winter Switchbacks.  But don't worry.  After over ten years, this is unlikely to be the last one.  You can join me in January of 2023 and experience the crazy joy for yourself.  You could also come out in July 2022 for summer switchbacks.  There won't be snow and ice, so you will have to settle for dirt, horse poop, and mosquitoes.  Of course, you don't have to wait for a race.  You can come on out anytime you want on your own.  Just get off I-94 at exit 153, head north for a couple of miles, take a right turn on Green Road and head east for less than a mile.  To keep an eye out for future Switchback events, and look back at past ones, you can go here:  https://www.facebook.com/SwitchBacksRace.