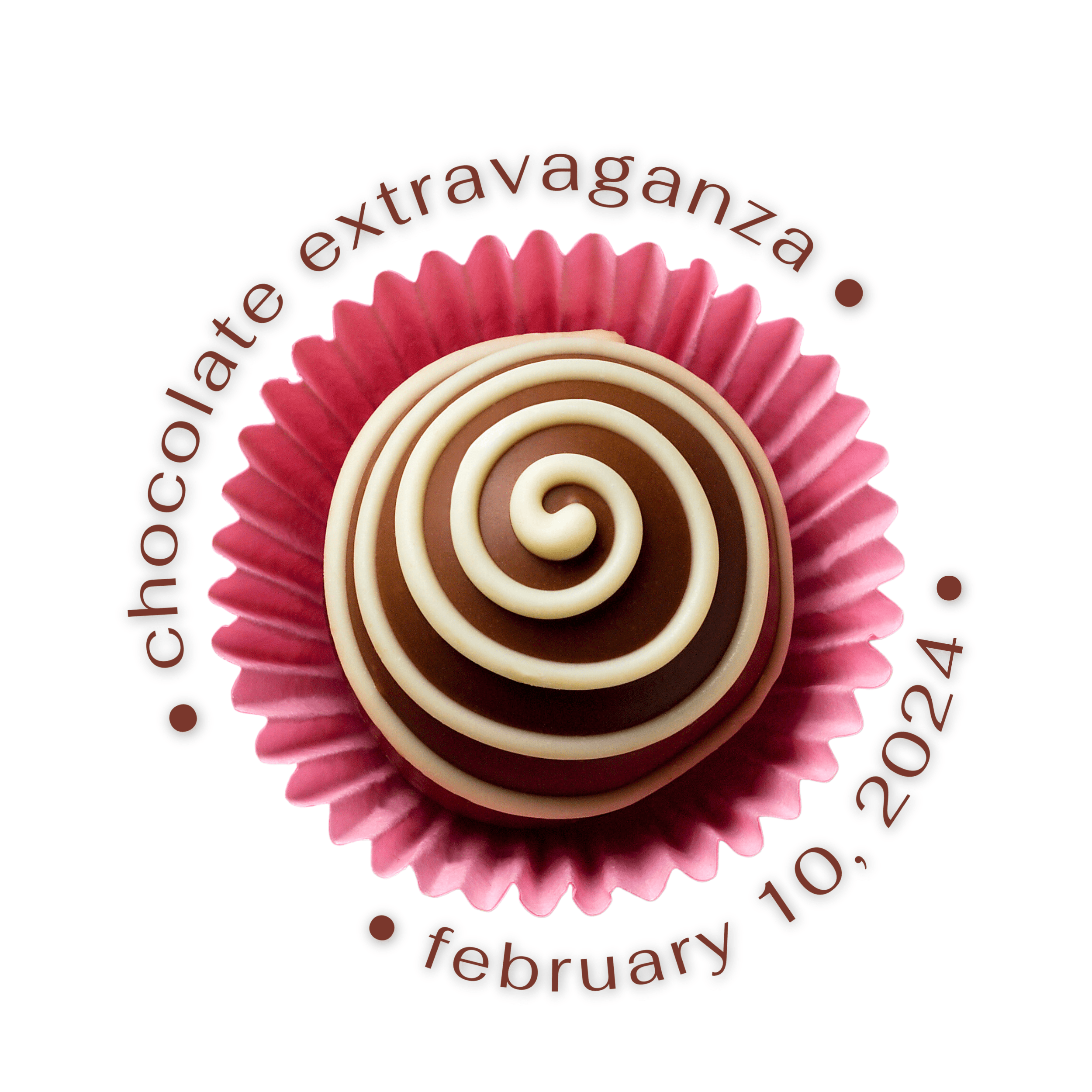 Chocolate Extravaganza | 2024
Check back soon for 2024 details!
Check out last year's specials and events below:
Agricole Farm Stop: Hosting live chocolate maker demonstrations starting at 10AM. Mindo Chocolates Maker owner Barbara Wilson will have samples of Mindo Hot Chocolate* and give an educational talk from 10AM – 12PM. Gingie's Cookies will also be here from 10AM-12PM with her delicious treats for sale! AG Chocolates owner Chris Kitley will have free samples of his delectable truffles* from 12PM-2PM. There will be samples of Ferris Nut Company's Dark Chocolate Almonds and Malt Balls* from 2PM-4PM.  All day café special – Chocolate Rose Elixir $5. (*while supplies last)
Bumble's Dry Goods – Shop in-store specials while enjoying milk chocolate, turtles, Michigan Mints, and orange peels dipped in dark chocolate.
Chelsea Area Chamber of Commerce Vendor Market: Chocolate Demonstration and vendor tables at the Chelsea First Congregational Church. (11AM – 3:30PM)
Chelsea Alehouse – Chocolate covered cherry old fashioned – a twist on a classic, with bourbon, cherry liquor, and chocolate bitters. This cocktail drinks smooth and sweet, finishing with chocolate aromatics, a perfect cocktail for a romantic dinner. (12PM – 10PM)
Chelsea Consignment – New markdowns and spring line with free chocolate and water.
Chelsea Village Flowers: Free chocolate treats. (9AM – 3PM)
Cleary's Pub: Cleary's Pub food and drinks – the perfect sustenance to keep your shopping strength in peak condition!  A modern Twist on the Classic Bliss!  (11:30AM-10PM)​
The Cottage Rabbit: The Cottage Rabbit will be holding a drawing for a $50 gift certificate, in addition they will be selling Gilbert's chocolates all day.
FarmSudz: Chef Pat will be whipping up some chocolate treats to nibble while you shop their sudsy specials!
Garden Mill: Find the perfect gift for your Valentine at The Garden Mill, and get 20% off all Valentine's Gnomes – plus a free chocolate treat with every purchase! In-store only, while supplies last. Children can also search for Penguin Eggs filled with a chocolate treat.
La Jolla Fine Jewelry – Chocolate Truffles and a Free Jewelry Give Away Drawing will be going on throughout the day.  20% off 20% off everything in the store, excludes estate and custom orders (through February 14th).  Plus, stop in for free jewelry cleaning.
La Maison – Drawing for a free bag of Republic Chocolate Covered Cherries.
Merkel Furniture and Carpet One – Additional 10% off all clearance items. Plus check out Merkel Furniture's very own line of Hometown Candles.
Serendipity Books – Featuring a pretty cotton baggie of European chocolates and a book-ish paper flower with each purchase.
Smokehouse 52 – Serving specialty cocktails like Chocolate Caramel Martinis and Chocolate Cherry Old Fashioned. (11:30AM – 9PM)
True North Jerky and Foods – Delicious and delightful Charcuterie and more!
Whitetail – Find the perfect gift for your valentine while you enjoy delicious treats from Beetons.
Withington's: Harvest Chocolate Pop-Up with beer and wine samples.
Zou Zou's Café : Stop in during Chocolate Extravaganza to warm up with a cup of hot coffee or fanciful latte!  (8AM – 7PM)
All About Nails: Enjoy a Winter Retreat Pedicure while enjoying free chocolate.
Artisan Knitworks: Buy a sweater lot of yearn, get 50% off and free chocolate.
Artisan Pixworks: Check out the new space in the basement of Artisan Knitworks, enjoy chocolate, and browse through the artwork (20% off photography and ceramics).
Brahma Haus: Free hot cocoa while supplies last.
Cake by Kaity: Stop by her booth at the Ugly Dog Distillery's Valentini Sip & Shop for festive and delicious double chocolate, funfetti, and red velvet cake pops.
Chelsea Bakery: Stop in for freshly baked chocolate pastries and donuts.
Chelsea Comfort Inn & Village Conference Center: Shake off your winter blues with two days of live music and dancing in Chelsea, Michigan at the Comfort Inn & Village Conference Center for Groove Hotel.
Copper Crate Mercantile: For the love of an amazing sale (enjoy 20% off several valentine gift ideas), for the love of hot cocoa (grab a hot cocoa at the loaded hot cocoa bar), and for the love of a sweet photo op (our sweet little alley has the right amount of love for a perfect photo backdrop).
Culver's: Serving Chocolate Decadence Frozen Custard at the CACC Vendor Market and will have calendars, coupons, and more!
Culture Creations: Shop at their new location while enjoying a variety of fudge and a special guest.
Curiouser Clay: conversation heart ceramics.
Faith In Action: They will have agency information at at the CACC Vendor Market.
Fishville Farms Events: Grab your Valentine and come on down to the Chelsea Fairgrounds to shop 100 of our best local crafters, vendors and small businesses at the Love is in the Air Craft & Vendor Show!
Good Health Oils: Do you want to feel so empowered with all of these positive ways you can affect the life of your family?  Visit their table at the CACC Vendor Market if you would like some guidance on how doTERRA's products can empower you.
Grateful Crow: They will be featuring the Uncle John's Brownie.
Kiwanis Club of Chelsea: There will be Gourmet Mixed Nuts for sale.
Leslie Oliveraz | Rodan + Fields: Winter can be harsh on skin, but it doesn't have to be?  Come learn you can "UNLOCK" the MAGIC of "HYDRATION" with Rodan + Fields Dermatologically Designed SKIN + HAIR care systems that HELP refresh TIRED and DRY skin!  Products on display, hand facials DEMOS and Samples to take home and try! Stop by Ugly Dog Pop-Up vendors and see us!
Robin Hills Farm: Welcomes you all for a fun filled Valentine's/Galentine's Day brunch! We will have a delicious meal prepared by Sanich Union that you will not want to miss out on! The full bar will be open with specialty Valentine's Day cocktails and Bubble Buckets available for purchase! Bubble buckets include a bottle of champagne, two juices, and fruit!
Rotary Club of Chelsea, MI: Will be selling soup mixes, dips, and hand woven baskets and hats.
SBK Orthodontics: There will be information, a giveaway, and goodies at their CACC Vendor Market table.
Secret Crisis Comics: 10% off all board games.
The Collins Off Main: Join us for our Second Whiskey, Wine, Cigars and More event! Enjoy a relaxing evening in downtown Chelsea.  We're excited to host our second public event featuring the following Vendors: The Collins Collective, Ugly Dog Distillery, Cigarden, And More!
The Healthy Choice Chelsea: Chocolate covered protein bars: lemon, chocolate peanut, and vanilla.  They will be at the CACC Vendor Market.
The Lakehouse Bakery: Chocolate demonstrations at the CACC Vendor Market at the Chelsea First United Methodist Church.
The Rumpus Room: They will be featuring a Chocolate Martini and Chocolate Cherry KBS on tap
Theresa Whitaker| Mary Kay: Learn about Mary Kay, enjoy chocolate candy, and enter to win her drawing at the CACC Vendor Market.
Thompson's Pizza: They will have Heart-Shaped Pizzas and Chocolate Raspberry Martinis (made with Ugly Dog Distillery Raspberry Vodka).
T-Mobile: $50 virtual Mastercard when you activate new 5G home internet.
Ugly Dog Distillery: Valentini Market Sip & Shop (12 PM – 5 PM) – Enjoy a delicious chocolate martini while you shop during the Chocolate Extravaganza.
Valiant Bar & Grill: Enjoy St. Julian Raspberry Truffle and Double Decadent Chocolate Ganache all day – Karaoke starts at 9:30PM.