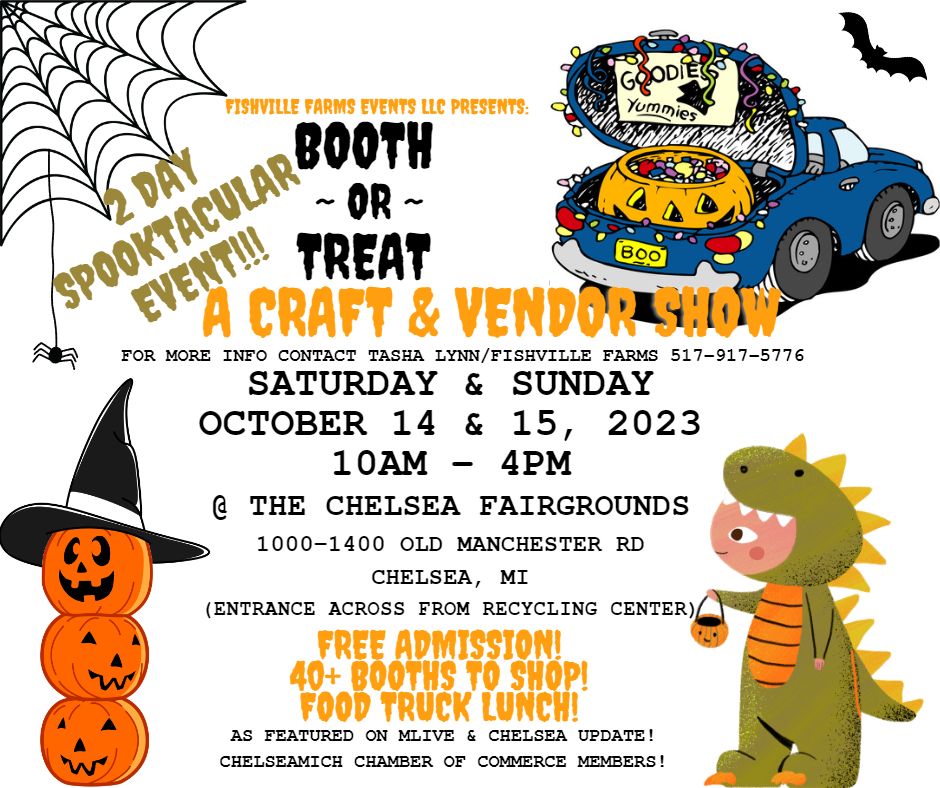 Fishville Farms Booth or Treat A Craft & Vendor Show 👻 2 DAY EVENT SAT & SUN 👻
YOU ARE INVITED! 🎉 🎉🎉
Fishville Farms Events LLC is hosting:
Fishville Farms Booth or Treat A Craft & Vendor Show
🗓 SAT & SUN October 14 & 15, 2023
⌚ 10am – 4pm
✉ Chelsea Fairgrounds
1000-1434 Old Manchester Rd
Chelsea, MI 48118
(Event entrance is ACROSS from the Recycling Center)
🎉FREE ADMISSION/FAMILY FRIENDLY!
🚚FOOD TRUCK LUNCH!
🎉40+ LOCAL INSIDE BOOTHS TO SHOP!
🎃 TRICK OR TREATING ALL DAY!
🎃 Welcome back to our 2nd Annual Booth or Treat A Craft & Vendor Show! Pick a costume, and come on
down to #TrickOrTreat our 40+ amazing crafter & vendor booths all while you shop from our awesome #Crafters
and #Vendors! Come on down and say BOO! 👻
🎉 Our amazing #Crafters and #Vendors have some very amazing #halloween themed items to shop for! Come on
down and find something boo-tiful to add to your home decor OR a super cute holiday gift! They have been
working hard throughout the summer and they can't wait to show it all off to you!
👉For more info contact:
Fishville Farms/Tasha Lynn
📞 517-917-5776