Shopping Events
Sweet $aver Saturday
Check out shopping and dining deals every Saturday in beautiful & historic Chelsea, Michigan.  Thanks to our sponsors, we are able to do gift card giveaways each season. Sometimes there are fun monthly special events as part of the Sweet $aver Saturdays. These events have included a scavenger hunt, game night, Easter egg hunts and pop-up shops!
Fresh Air Market
Chelsea, MI - #shopchelseamich merchants welcome residents and visitors to enjoy a "Fresh Air Market - Fashion & Home Show." This event has historically been "Sidewalk Sales," and 2021 was the 45th anniversary.
Wine, Women & Shopping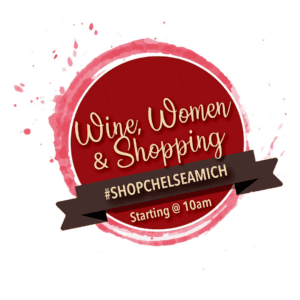 The first Wine, Women & Shopping event came together in 2006, from the musings of 3 local merchants – Pam Conn, Alta Brown and Lynn Feist who recognized that Chelsea, while a relatively small city, had a lot to offer to the most discriminating shoppers. "Our businesses are full of unique items you cannot find in a mall and we have great local food. You can shop, have lunch and a glass of wine with your sister or friend, and find the perfect gift." Said Pam Conn, former owner of Wines on Main.  ​